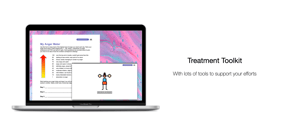 A comprehensive package
The Treatment Toolkit contains 7 complete evidence-based programs. Audio, video, and pdf content walk you through the change process step by step. Focus on a specific program, pick sessions from more than one, or work through them all. Plus, you can link monitors to your scan account, helping you visualize change as it happens.
Gold Standard Treatments
These are the same tools used by qualified therapists around the world in their work with clients, adapted for you to use as a self-help resource or to augment your work with a psychotherapist or psychologist.
Bundle Includes
Here are all the products that are included in your bundle